If you're a data scientist considering your next career move, one option that might have crossed your mind would be to become a product manager. But can a data scientist become a product manager?
A data scientist can become a product manager given the right skill-set. Beyond technical expertise, you'll need to understand and predict customer needs. You'll also have to be able to manage people in cross-functional teams and make decisions. Providing leadership is also crucial to the role.
So, you'll need to expand beyond your technical data science skills to become a product manager. Below, you can discover more about what product management involves. You can also learn what skills you'll need for the job.
Important Sidenote: We interviewed 100+ data science professionals (data scientists, hiring managers, recruiters – you name it) and identified 6 proven steps to follow for becoming a data scientist. Read my article: '6 Proven Steps To Becoming a Data Scientist [Complete Guide] for in-depth findings and recommendations! – This is perhaps the most comprehensive article on the subject you will find on the internet!
What Is a Product Manager?
A product manager's role can vary from one organization to another. However, in general terms, it involves the responsibility for delivering a product. That is, from conception to implementation. It's a form of project management.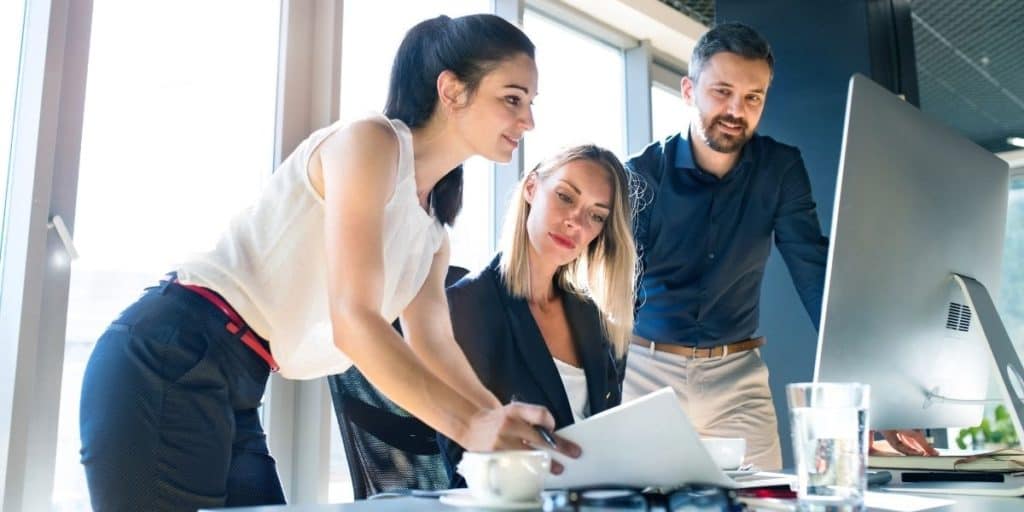 It's a multi-faceted role. Be ready to become a jack-of-all-trades and a master of none. Because as a product manager, you'll oversee the entire product development cycle. 
You'll need to view and understand it from all angles. One minute you'll be dealing with technical issues. The next minute you might have to address sales or marketing concerns. 
You'll no longer be part of the orchestra. Instead, you'll be the conductor. You'll bring together the various disciplines involved in a project. You'll direct and coordinate their efforts, and it'll be down to you to ensure that everyone works in harmony and to the same rhythm.
What Skills Does a Product Manager Need?
As a data scientist, your skills may already extend beyond the purely technical.
For example, you'll be liaising daily with the data engineers and designers within the team. You may also have some degree of contact with end-users. Of course, you should be well-versed in data-driven decision-making.
As will become clear, these broader skills can help you become a product manager, but you will have to build on and develop them.
Communication
As a data scientist, hard technical skills are a given, and you may also already have some ability to communicate technical concepts in layman's terms.
As a product manager, communication at all levels will be a much larger part of your role. Of course, you'll need to be at ease communicating across technical disciplines. Communication skills will help you influence people and rally them around you.
Additionally, you can expect to have a great deal of client contact. Often, they'll be business-minded rather than technical people.  
You're also likely to have extensive dealings with your senior management, and depending on the type of company for which you work, you may also be dealing with sales and marketing teams.
That's why the ability to translate and present technical matters using plain language is crucial.
Decision-Making
As a data scientist, you'll already have to make data-driven choices.
Decision-making will remain a key part of your role if you move into product management. You'll be responsible for balancing technical, business, and user needs. So, you'll need to decide on any necessary trade-offs.
Of course, as a product manager, you'll work with your team to make data-led decisions, but you may also need to make some decisions with no or incomplete data. This can often happen in the early stages of a project.  
As a data scientist, this may be outside your comfort zone. Your experience will be of making decisions based on quantitative analysis. Still, experience over time can make this easier.
Decisiveness is crucial to the role—being able to recognize when things aren't working and quickly change course.
Managing a Cross-Disciplinary Team
Often, especially in large organizations, a data scientist may work within multidisciplinary teams. So, collaborating with other technically-minded people won't be new to you.
However, as a product manager, you won't just liaise with other technical disciplines. You'll be the one who coordinates the efforts of the data scientists, designers, and engineers.
So, you'll need to develop your understanding of all those areas. Doing so will give you a clear idea of what they can and can't do, and you'll gain insight into why they might recommend one course of action when another seems more appropriate.
Developing your knowledge can help the smooth running of a technically diverse team. It'll promote mutual respect and understanding. That will help to ensure the team operates as a cohesive unit rather than disparate parts.
As a product manager, you'll also be the bridge that links the business and technical worlds. It will be down to you to ensure these two worlds come together rather than clash. That's crucial to keeping a project on track.
Business Acumen
As a product manager, you'll have overall responsibility for a project's success or failure. 
Much will depend on your ability to understand your client's business needs, even if they don't. It'll be up to you to define the project, which often means viewing it from the client's perspective.
So, a good grasp of business and the markets within which an organization operates are vital. This includes knowledge of the competitive landscape and challenges that the business faces. That way, you'll gain insight into the best strategic solutions for the business. 
As clients often don't know what they want or don't know how to express it, it'll be down to you to draw out the relevant detail. You can only do this properly if you're able to gain a deep understanding of your client's business.
People Management
People management is another of those soft skills you'll need to develop as a product manager. It's not just about working with people from different disciplines. You'll need to understand what makes individuals tick and how to motivate them.
Often, you'll find yourself having to handle different personalities and resolve conflicts, and identifying individual strengths and weaknesses is also vital. It's how you get the best out of a team.
Leadership
Following on from people management, a product manager must also provide leadership. Being a leader is really all about setting the tone and providing guidance and direction.
This could be about the way people work with and relate to each other, or it might be about supporting, facilitating, and encouraging team members—because that's how you'll get the best out of them.
You'll also need to drive projects forward while carrying all participants with you. You'll be the one to whom everyone turns when things go wrong, and they'll expect you to have all the answers. 
So, with leadership comes responsibility and accountability. These are at the heart of a product manager's role. Also, the capacity to deal with stress while remaining calm and collected will also help.
The following video provides a helpful summary of the skills discussed:
How to Develop the Skills of a Product Manager?
The best way to gain the necessary skills is to practice within your current role. So, you should take the initiative, which means putting yourself forward to take on more responsibility.
Here are the types of things you can do to give yourself a head start:
Look for opportunities to expand your understanding of other disciplines. Do this by talking to the engineers and designers you already know. Foster closer working relationships with them. You should do the same with the sales and marketing teams.
When issues arise, think about how you would resolve them. Remember, the issues may be technical or business problems, or they may have to do with personalities.
Work on presenting reasoned and clear business arguments. You can do this for a product idea, or try it on a current project when choosing between two conflicting courses of action. 
Take every chance to view things from an end-user perspective. This will help you understand why what works technically may not work for a user. Usability will be crucial to a product's success.
Working on these skills will arm you with vital practical experience of what you might encounter in product management.
Author's Recommendations: Top Data Science Resources To Consider
Before concluding this article, I wanted to share few top data science resources that I have personally vetted for you. I am confident that you can greatly benefit in your data science journey by considering one or more of these resources.
Conclusion
As you've seen, a data scientist can become a product manager given the right skill-set. 
However, nothing comes without some effort. Of course, your technical ability will be a great asset, but it won't be enough. You'll need the ambition and drive to learn. So, seek out every opportunity to hone the necessary additional skills.
In particular, look to strengthen and develop your communication, presentation, and business skills, and get comfortable dealing with clients and colleagues at all levels. 
Invest the time and energy now to fast track your product management ambitions.
BEFORE YOU GO: Don't forget to check out my latest article – 6 Proven Steps To Becoming a Data Scientist [Complete Guide]. We interviewed 100+ data science professionals (data scientists, hiring managers, recruiters – you name it) and created this comprehensive guide to help you land that perfect data science job.
Affiliate Disclosure: We participate in several affiliate programs and may be compensated if you make a purchase using our referral link, at no additional cost to you. You can, however, trust the integrity of our recommendation. Affiliate programs exist even for products that we are not recommending. We only choose to recommend you the products that we actually believe in.